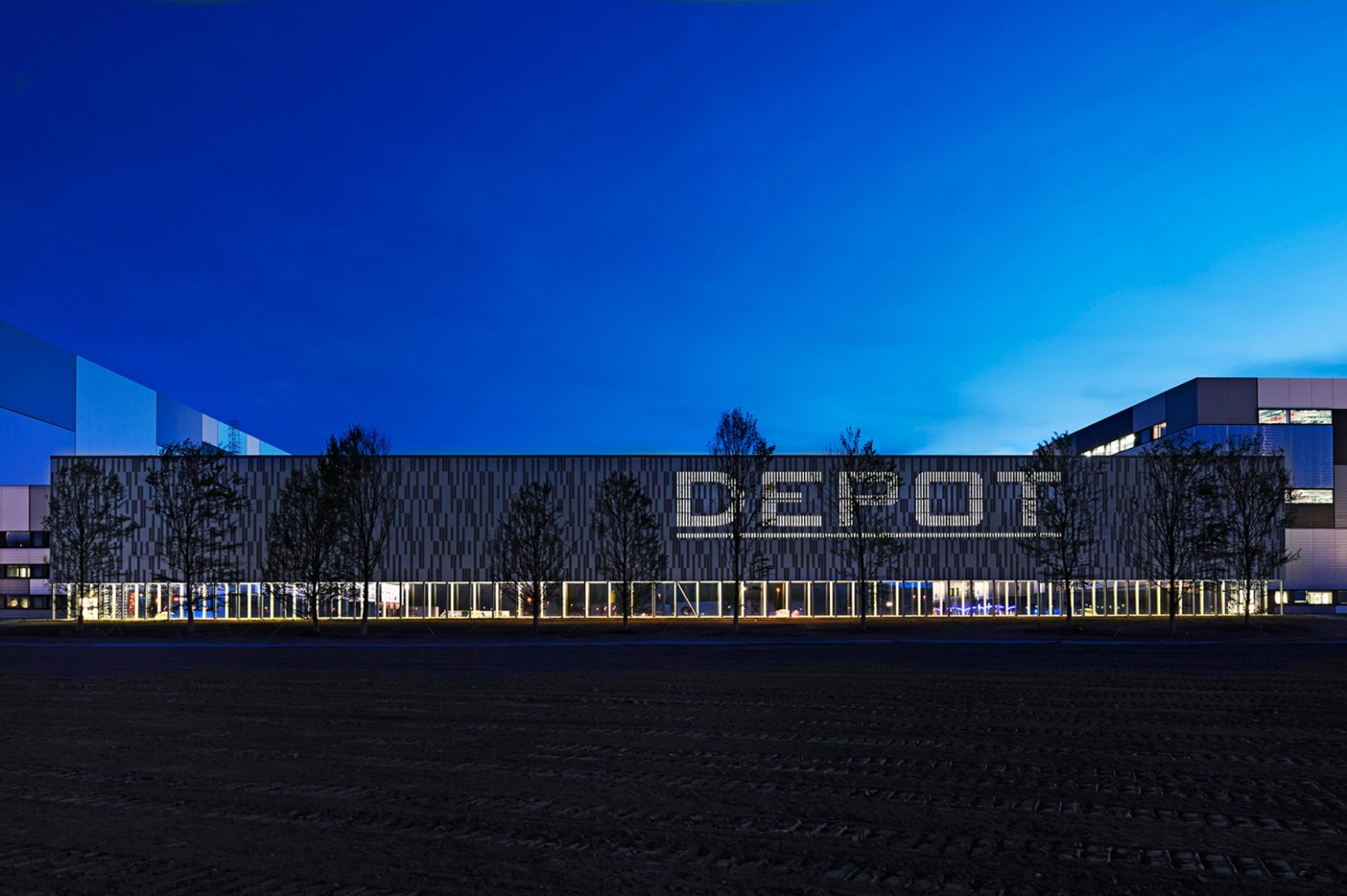 DEPOT
Design and consulting services lighting design. Computer-assisted luminance simulation of the DEPOT logo, to calculate the required luminance intensity taking the existing materials applied, surrounding luminance and given viewing distances into account.
The Gris Deco Company, which sells decorative goods under the familiar name "DEPOT", opened a new logistics centre in Nierenberg near Aschaffenburg in the summer of 2013.
The specification in the development plan was the construction of a noise barrier.
The draft from the architectural firm netzwerkarchitekten based in Darmstadt is a cladding consisting of fine strips of Eternit in white and grey. In their irregular arrangement and shades of colour, they provide the cladding with its own identity.
Precisely defined translucent strips of grey Plexiglas create the brand name "DEPOT" with a slight distance to the wall – approx. 5.5 m high and 34 m wide.
With the help of a computer-assisted luminance simulation of each individual letter the required lighting parameters were determined on the part of the lighting design taking the supporting structure, the reflection properties on the inside, the given viewing distances and the existing surrounding luminance into account.
The type, number, luminous flux, light distribution and positioning of the spots as well as the light transmission level of the Plexiglas elements forming the logo are exactly specified.
To achieve a uniform logo luminance across the full height of the letters, a white light reflector, which scatters light diffusely, was specifically installed on the top of the noise barrier.
The result is an even and subtle – but at the same time extremely present – lighting of the logo with a harmonious intensity to the surroundings, which makes the brand name "DEPOT" impressively visible and tangible from afar, almost like a kind of "landmark", even during the hours of darkness.
Sascha Homburg executed this project during his employment at studiocandela Lichtplanung und Lichttechnik.
Property: Noise barrier
Builder: Gries Deco Company GmbH, Niedernberg
User: Gries Deco Company GmbH, Niedernberg
Architect: netzwerkarchitekten
Photos: Joachim Grothus
Location: Niedernberg
Completion: 2014