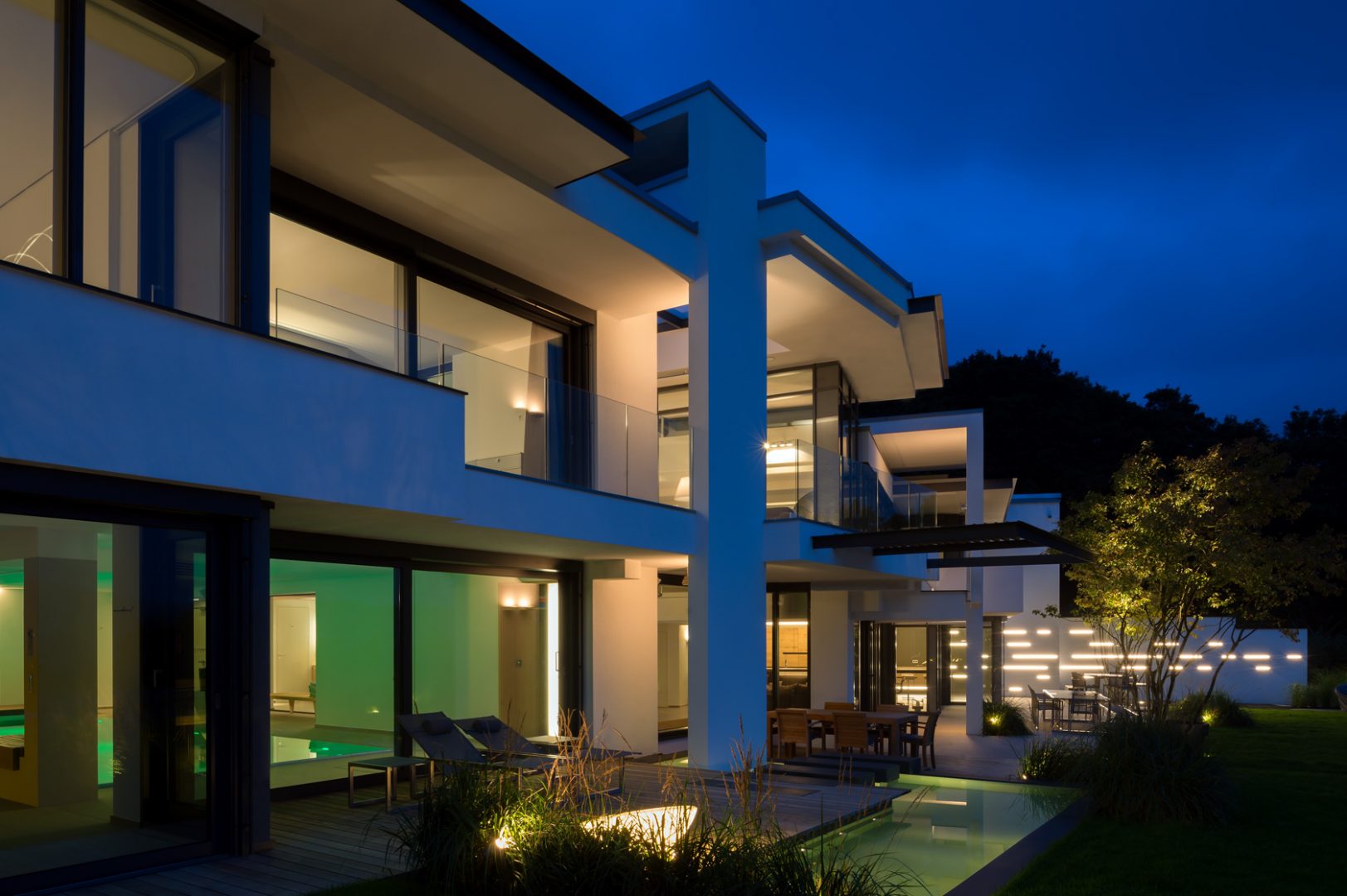 House E
Design and consulting services lighting design for a single-family home, including outdoor installations.
The architecture, an interlaced, flowing continuum of space unfolds across several levels like a fan. Exciting perspectives, insight and outlooks are the result.
The light is intended to support the expression of the architectural composition and to help classify and comprehend it. Diffuse light from joints, niches and cavities – developed from the given architecture – forms the first of three artificial layers of light. It dematerialises selected edges of the room and emphasises the loose structure of the different surfaces and volumes. Resulting lines create structure as well as orientation, connect inside and out, top and bottom, designate boundaries, paths and rooms.
The second layer of light clearly emphasises the applied luminaire in a regular rhythm with the help of an explicit style: Solely indirect, brilliant lighting, positioned in selected areas and elements of the architecture (supports, entries and exits, end panels or crossover points) respectively creates a selective visual higher space.
Carefully selected light objects are allocated to the different functional areas such as eating, working, resting, cooking, watching TV, relaxing,… in the form of independent suspended, floor or table lamps. The lighting fixtures, which resulted in this manner, complement the conceptual design as the third layer.
To support the equality of the living space indoors and out, the lighting themes inside the building find an easily comprehensible counterpart, continuation or conclusion in the open space outdoors.
Sascha Homburg executed this project during his employment at studiocandela Lichtplanung und Lichttechnik.
Property: Residential house
Builder: Private
Architect: Merwitz Architekten
Interior designer: Dagmar Rosa Schulte
Photos: Klemens Ortmeyer
Location: Detmold
Completion: 2013