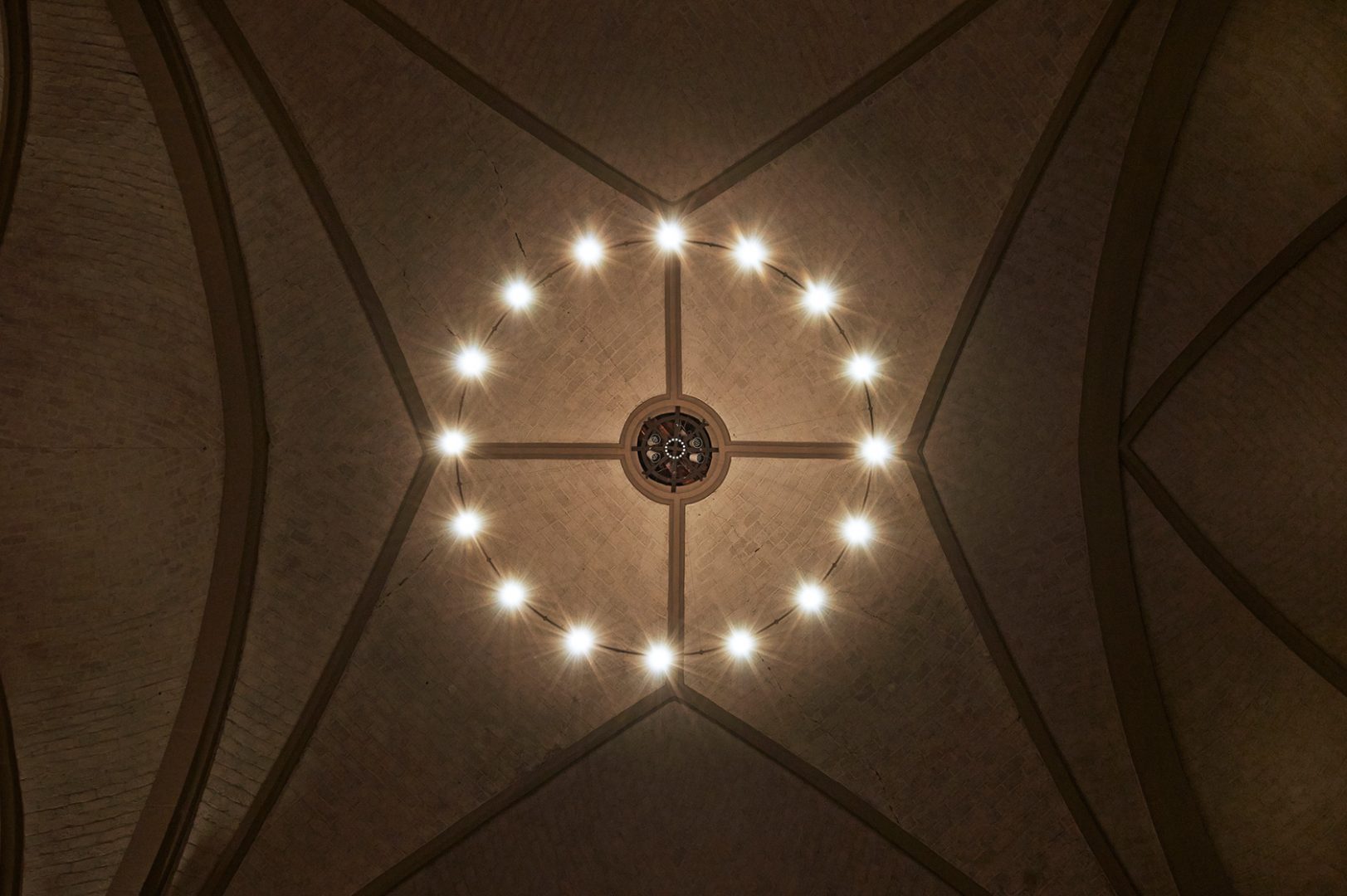 Eidinghausen Church
Design and consulting services lighting design in line with the remodelling/modernisation of the entire church interior.
The primary objective of the new lighting design is a subtly developed artistic and technical lighting solution, to coincide with the church architecture, its individual elements and the materials applied.
The fundamental idea of the concept divides the differentiated space into three ascending "lighting levels": The light from precisely directed, indirect beaming wall spotlights forms the top level, which provides the cross-vault with an even veil of light and in doing so, impressively presents the neo-Gothic supporting structure in detail.
Wall-mounted luminaires, which are shielded from the observers, provide a soft basic lighting in the middle section and allow the wall segments between the windows to appear more spacious as a result of the higher vertical luminance intensities
The bottom lighting level defines the light using solely direct beaming lights suspended from the ceiling. Their formally minimised design enables an inconspicuous integration into the architecture and they generate a pleasant lighting (atmosphere) in the area of the pews.
There is also a delicate, centrally positioned ring light. Its light emphasises the crossing with direct and indirect light distribution.
LED spotlights with precisely coordinated lighting angles – aimed at the elements altar, cross, baptismal font and lectern located on the chancel – provide for precise emphasis and differentiation.
Narrow beam recessed floor spotlights support the aspiring effect of the column structure located behind the altar.
The interaction of all individual lighting themes with the architecture results in a harmonious and elaborate presentation of the overall lighting in the church interior for the observer. Different combinations of switching and dimming allow the lighting to create suitable atmospheres and spatial effects – always the appropriate lighting for church services, evening concerts or even afternoon community meetings.
Sascha Homburg executed this project during his employment at studiocandela Lichtplanung und Lichttechnik.
Property: Church interior
Builder: Evangelical-Lutheran Church Eidinghausen – Building Committee
User: Evangelical-Lutheran Church Eidinghausen
Architect:  Architectural firm Grübbel
Photos: Joachim Grothus
Location: Bad Oeynhausen
Completion: 2014