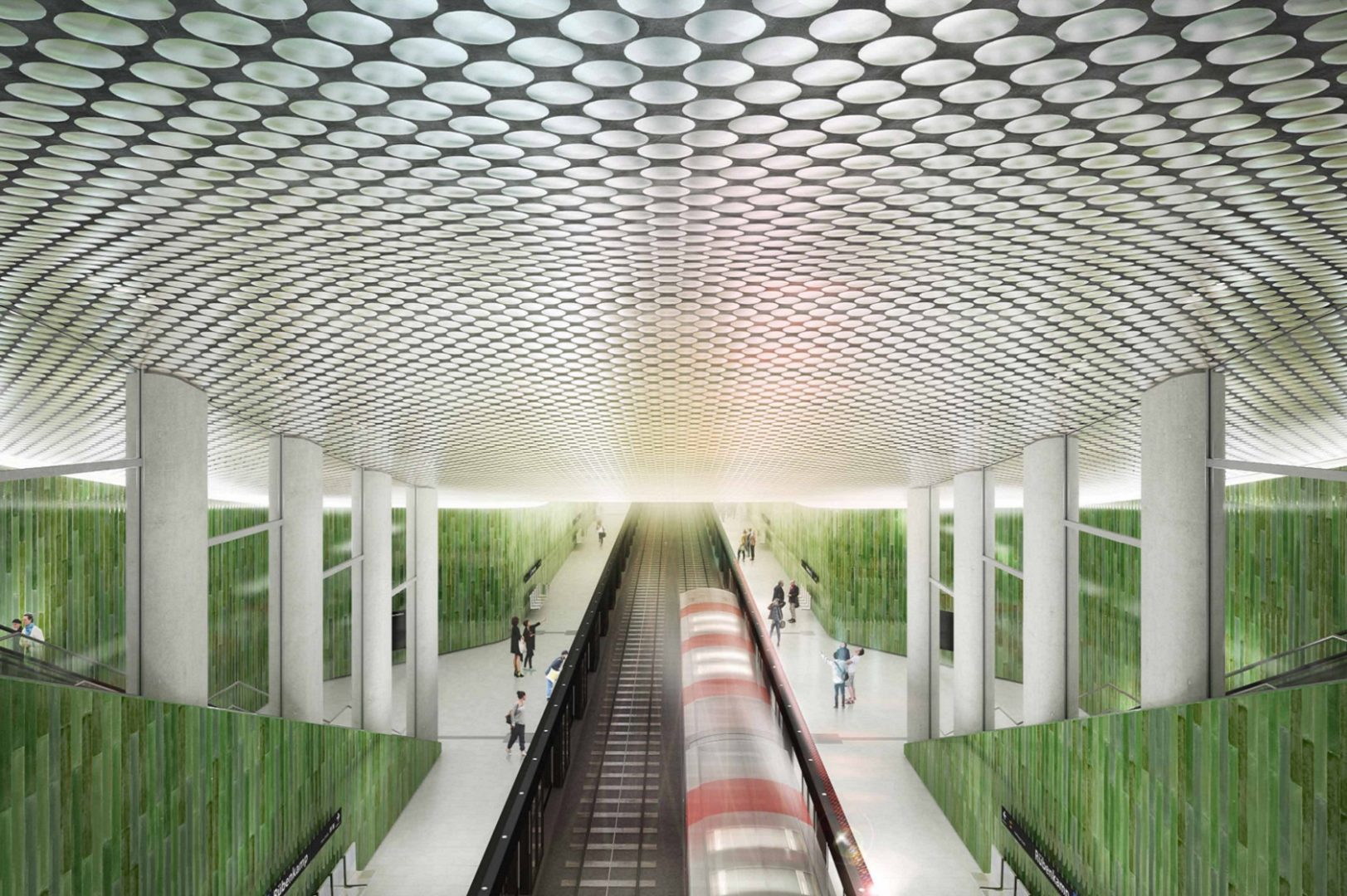 U5 Hamburg Competition
Invitation-only, limited competition to develop a style guide for an overriding design concept for the spatial extension of the 'U5 Ost' underground rail stations in Hamburg.
The archetype for the identity-forming lighting theme for the new underground line 5 is the modulating light of the sky – in this case, the sky over Hamburg in particular.
The animated "(artificial) Hamburg sky" lighting effect, designed for the U5 and varying according to viewing direction and standpoint, is a result of the interaction between indirect beam distribution from illuminants and the reflection of the aluminum elements in the ceiling which are convex in shape.
The elegant structural swing of the station ceiling therefore achieves an incident light with modulating colour and intensity, and which alters in brightness and colour from the highest to the lowest point of the ceiling.
Well-shielded, efficient downlights, positioned between the ceiling elements and emitting direct light beams, ensure the necessary functional light.
A horizontal, horizon-like light bordering the modulating sky provides both (structural) division and (conceptual) endlessness. It dematerialises the connection points between the wall and the ceiling, and underlines the ceiling's dynamically floating character – the "Hamburg sky" moves independently over the space!
Property: Transport infrastructure competition – restricted, single-phase peer-review processes
Awarding authority: Hamburger Hochbahn
Architect: netzwerkarchitekten
Rendering: LUXFELD Digital Art
Product and graphic design: UNIT-Design
Digital media systems: MESO Digital Interiors
Location: Hamburg
Completion: 2017